A Sharp Eye for Business and Her Community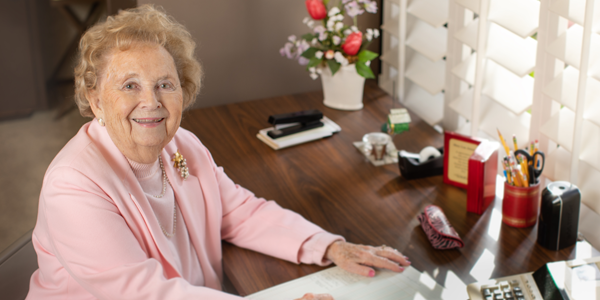 Mary Lou Jensen knows how to make every gift count.
Of course, that's not surprising when you realize she has been a bookkeeper and accountant for more than 60 years. But it wasn't just in the way she gave financially; it was the way she used her intellectual curiosity, unwavering fiscal responsibility and kind generosity to make Casa Colina a better place for the past 20 years.

It was her sound approach to finance that helped her family's real estate development business thrive in the Inland Empire. After her husband, Bob, passed away in 1997, long-time friend and Casa Colina Board Member, Sam Crowe, approached her to join the Board.

At first she was reticent. "I don't know anything about hospitals. I only know about finance," she responded. Sam knew Mary Lou had much more to offer, including a heart of gold, a wealth of wisdom and an unquestionable devotion to her community. "You're a long-time resident. They need people like you," Sam insisted.

There was no denying it. After all, she was born at San Antonio Regional Hospital and lived in Ontario ever since. She cared deeply about the people of this area. Now that her business was less active, she had more time to devote to Casa Colina's Board.

One of her first tasks was a meeting that would forever change the course of Casa Colina's history. She was asked to interview Dr. Felice Loverso to become the replacement of retiring CEO Dale Eazell.

Positive first impressions were certainly mutual. By 1998, Mary Lou became more than a board member. She was a sounding board for new CEO, Dr. Loverso. They often brainstormed ways to expand Casa Colina's services and facilities to better meet the needs of people in the community. She also took on the role of Board Secretary, which she held for many years.

On the way back from a meeting with Dr. Loverso at Casa Colina's Rancho Piño Verde, a residential facility in Lucerne Valley for men with traumatic brain injuries, she suddenly had a thought of how they could help even more people who suffered this catastrophic injury. "Are we going through Apple Valley?" she asked, "I have a lot there. It's a big, four-acre property."

He found it. They walked around the flat, expansive property. "Do you think Casa Colina could use it?" Mary Lou asked. "Yes!" Dr. Loverso enthusiastically responded.

In 2001, this site became Casa Colina at Apple Valley and was marked with a festive grand-opening event. It is a caring and supportive home for 42 men and women with traumatic brain injuries. "It makes me feel good that Felice did something special with that land," Mary Lou stated.

When her son, Jerry Jay Jensen, passed away in 2007, she made another generous donation to Casa Colina in his memory, which is recognized by a plaque outside of the hospital's West Garden.

Mary Lou faced her own health challenge that year after taking a fall down some stairs at a local restaurant, which resulted in an open wound on her shin. Though her regular doctor wrapped it carefully, this stubborn wound simply would not heal.

The help she needed was right around the corner. She went to the Casa Colina Wound Care Center, where infectious disease specialist Dr. Kerry Gott and his team of clinicians treated her wound from the inside out with weekly visits for six months. "They did an excellent job, and I experienced firsthand what Casa Colina's specialized care was all about."

Recently, on a trip back from the desert with her son John, they spontaneously stopped by Casa Colina at Apple Valley. "We didn't even call ahead. It was charming, clean and so orderly," Mary Lou recalled.

This year, Mary Lou is an Emeritus Board member, still keeps up with all of Casa Colina's Board decisions, attends many of her favorite fundraising activities and supports the Outdoor Adventures program.

At the age of 91, Mary Lou is clearly not ready to retire. She's much too busy figuring out new ways to support Casa Colina and its patients.