Grand Slam Giving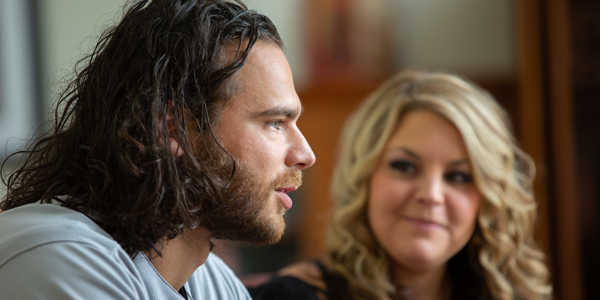 As a professional athlete, Brandon Crawford, All-Star shortstop for the San Francisco Giants, understands injuries and their potential impact on a career. But he also knows the difference between routine injuries on the field and something truly momentous.

"Coming to Casa Colina puts things in perspective. Here, people are coping with lifealtering injuries," said Brandon, who, together with his wife, Jalynne, has made Casa Colina Hospital and Centers for Healthcare one of their top philanthropic priorities.

In January 2019, Brandon and Jalynne visited Casa Colina, where the three-time, back-to-back Gold Glove winner signed baseballs and photographs for patients and staff and talked all things baseball.

In addition, the Crawfords added to their Casa Colina giving with a contribution of $70,000. Much of that came from proceeds of the sale of the "Craw Claw," an oversized foam baseball glove created and sold to benefit the work being done at Casa Colina.

The couple's commitment stems from one of those profound injuries—suffered by Jalynne's father, John Dantzscher. He came to Casa Colina for rehabilitation after being severely injured in a traffic accident while attending the 2000 Olympic Games in Sydney, Australia. The whole Dantzscher family was there to see Jalynne's sister, Jamie, compete with the United States women's gymnastics team, which would go on to win the bronze medal. On a day that was supposed to be filled with sightseeing, John and another daughter, Jennifer, were riding in a cab when it was struck by a bus that ran a red light.

Jennifer's injuries were relatively minor, but John sustained a fractured skull, two collapsed lungs, fractured wrist, and more. He was in a coma for four weeks and in a Sydney hospital for six weeks before he could return home.

Jalynne, who was 12, recalls visiting her father at Casa Colina during his recovery. "He was our rock," she said. It was difficult at times to watch him go through therapy, but inspiring as well. "I remember my father saying, 'Casa Colina is a second home to me.' From the beginning, it felt like a community, and everyone made all of us so welcome."

Now, if you met John Dantzscher, "you wouldn't know he had a brain injury," said Jalynne. Brandon calls his father-in-law "a great example of the power of the human mind and spirit to heal."

Six years after the accident, Brandon and Jalynne met at a UCLA student athlete orientation. Like her sister, Jalynne was a competitive gymnast, but a recurring injury forced her to give up the sport.

Brandon and Jalynne married in 2011 and have four children. Following one of their first visits together to Casa Colina, Brandon wrote in his blog, "I came away in awe of the courage and perseverance of people dealing with tragedy."

When he was called up to the majors in 2011, they were able to put their philanthropic goals into action. "This is the first place we wanted to direct our giving," said Brandon of Casa Colina. "It was an obvious choice."